March 2023
Altar Valley Middle School continues to shine! Students are engaged in rigorous academics, setting individual goals, creating data portfolios, and having amazing opportunities outside of the classroom! As principal, I enjoy sharing time with students and staff. Watching students strive to reach their full potential in and out of the classroom is a true joy! This month we would like to spotlight three of our amazing programs: Positive Behavior Interventions and Supports (PBIS) and Student Engagement, Student Data Portfolios, and Professional Development for staff.
PBIS and Student Engagement
PBIS supports student success by recognizing students for their positive behaviors in and out of the classroom. When students achieve above the expectations in academics and/or behavior, they are rewarded with Eagle Bucks - staff watches for SOAR - Safe Behaviors, Open Minded, Accountability, and Respectful. Students are then able to spend them at the Eagle Store for items selected by the student council, from fun school supplies to bouncing balls and small sporting items. Additionally, we have Eagles Day once a month, where students who are meeting expectations are able to participate in fun activities for part of the school day. Since September, 75% - 86% of the students on campus were eligible to participate and had a great time with various activities available to students. PBIS continues to be a driving force to help students understand their role in their education! As we look for ways to engage students in their learning, we seek opportunities to allow students to demonstrate what they learn in the classroom in creative and interesting ways. On Valentine's Day, we hosted our first annual "I Love My School" STEM Challenge. Students used the supplies provided (marshmallows and spaghetti noodles) to build the tallest tower possible. Students and staff shared their enjoyment of the experience - they enjoyed working with their teams to create an end product. An amazing day modeling SOAR!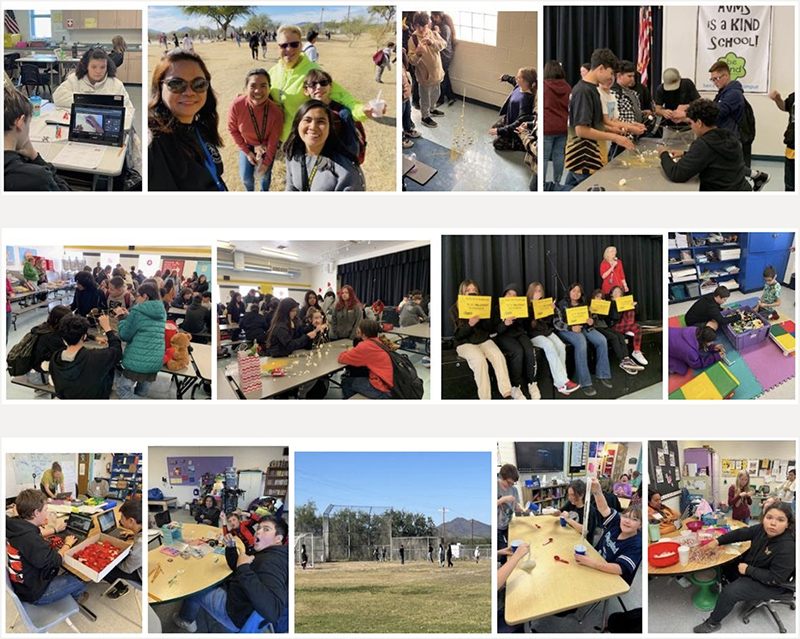 Student Data Portfolios
At AVMS we want students to play a significant role in their learning. In an effort to support this goal, we have created student portfolios that contain student data from benchmarks, formative assessments, oral reading fluency data (ORF), curriculum-based measures (CBM) for math fluency and reading comprehension. Students have set goals for their next benchmark assessments February 28th - March 3, 2023, of at least 10% growth and what they will do to obtain that goal. In addition, our school-wide goal is to reach 80% mastery on our CBM and ORF assessments by the end of April. Students have set individual goals, and we have made this a priority during our reteach time during the day. Every student and staff member is aware of the school goals and their individual goals, and together we are working to meet our goals.

Professional Development
Just like our students, our staff needs to continue to grow and learn. This year we have had several dynamic professional development PD presentations that have transferred into the classroom. One such PD is connected to the student portfolios; as a group, we conducted a data dig and determined some of the areas we feel our students struggle with. We took that knowledge and determined how we could rectify the issues. Providing students with direct access to their data seemed like a logical step. This has strengthened our PD moving forward as well as our weekly Professional Learning Communities (PLC - teachers meeting to discuss student progress) as teachers and students had a common ground to build. We have seen an improved desire from students to improve and take the assessments more seriously. Our most recent PD allowed teachers to select one of three topics:
How To Move Students From Struggle To Productive Persistence
How To Connect With Students Who Are Difficult To Reach
How To Counter Shrinking Attention Spans
Teachers were able to come together and discuss what they learned and how they would use the newly learned skills in the classroom. Together students and teachers are growing and learning.

Sincerely,
AVMS Principal
(520) 822-9343