We're always trying to improve communication between home and school; especially since we know that it's difficult for middle schoolers to keep their parents informed about what's happening on campus. We'll be placing newsworthy information on this page so you don't have to hound your child for information. It's a win-win situation!
Picture Day Is Coming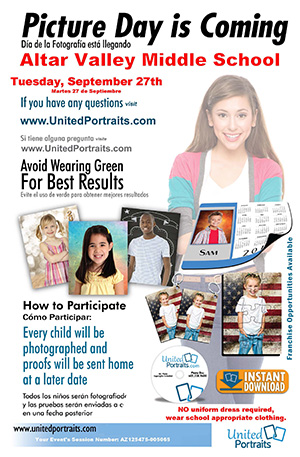 Picture day at Altar Valley Middle School will be on Tuesday, September 27. Uniformed dress is not required, but be sure to wear school-appropriate clothing (and avoid wearing green for best results). Every child will be photographed and proofs will go home at a later date. For more information, instant photo downloads, or franchise opportunities, visit the United Portraits website. Our event session number is AZ125475-005065.
ParentVUE
The Altar Valley School District utilizes Synergy for the management of student information. ParentVUE is a web and mobile portal feature of this program that allows parents to access to their child's school information.
In the ParentVUE web and mobile portals, parents can gather near real‐time information for all the siblings, regardless of the grade level or school of attendance during a single sign-on. Communication tools are easy to access to help promote contact between the parent and teacher that is necessary for student success. Some of the additional features in ParentVUE include allowing parents to view the school district calendar, attendance, grades and daily assignments, class schedules, and report cards.
Contact your child's school for access or if you have any questions on how to get started.